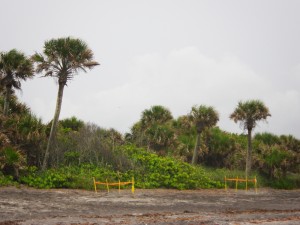 This is from Sunday afternoon, just before Isaac was predicted to hit our area, but since has taken a more westerly track.
Photo shows very little breeze and the areas marked off represent where sea turtles have laid their eggs. Not to be messed with. I understand there are literally hundreds of volunteers that comb the beaches early in the am and watch out for the fine flippered friends and assist the little guys after they hatch to make it to the sea. I would love to be there for that sometime!!
Looks like Isaac is going to be a rain event for us and now the focus is on Mobile, AL and New Orleans area. Keeping our fingers crossed, I can see how the anticipation over these bad boys can drive folks crazy. Remember, we have no basements here!